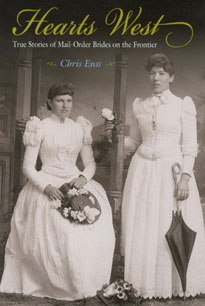 Are you interested in stories
of the history of the 1800's West?
You might enjoy reading Hearts West: True Stories of
Mail Order Brides on the Frontier, by Chris Enss

The 1800's west was a lonely place for men who traveled beyond the rugged Rocky Mountains. After awhile of being by themselves, many decided to send for a bride. WANTED: A girl who will love, honest, true and not sour; a nice little cooing dove, and willing to work in flour.
Desperate to strike it rich during the 1800's Gold Rush in the West, thousands of men traveled West to the emerging frontier, where they outnumbered women twelve to one. Only after they arrived did some of them realize how much they missed female companionship.
Hearts West brings to life true stories of mail-order brides of the 1800's West. Some found soul mates; others found themselves in desperate situations. Complete with the actual hearts-and-hands personal advertisements that began some of the long-distance courtships, this fascinating book provides an up-close look at the leap of faith these men and women were willing to take.