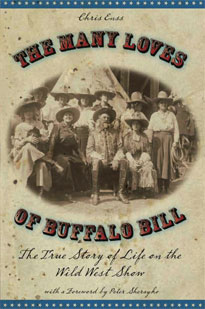 Are you interested in stories about the American Old West?
You might enjoy reading Buffalo Gals:
Women of Buffalo Bill's Wild West Show, by Chris Enss

Among some of the fascinating characters of the American Old West were the women who worked with William Cody in the Wild West shows. "What we want to do is give our women even more liberty than they have. Let them do any kind of work that they see fit, and if they do it as well as men, give them the same pay." William F. Cody-1899. With rough-riding cowboys, sure shots, and fantastic reenactments of battles and train robberies, Buffalo Bill Cody brought the myth of the American Old West to life for audiences all over the world. His Wild West Show was wildly popular – and some of the most popular cowboys in it were girls. Buffalo Gals tells the stories and celebrates the achievements of these thrill-seeking women, through historic photos, stunning, authentic publicity posters, and the meticulous research of western history writer Chris Enss. Cody's cast of wild women of the American Old West captivated audiences – whether they were riding bulls, breaking bucking broncos, roping steers, doing bareback tricks, or out-shooting all comers. The Wild West show made celebrities of women the likes of bronco rider Lillian Smith, dancer-actress Guiseppina Morlacchi, and sharpshooter Annie Oakley, endearing them not only to the audience but to Buffalo Bill as well. He praised the trick sidesaddle riding skills of Della Ferrell and Georgia Duffy and marveled at rider Lulu Parr's ability to stay on a bucking bronco until it was broken. Altogether, these gals were an unforgettably spunky cast of characters who saddled up and rustled their dreams.
For more stories about the American Old West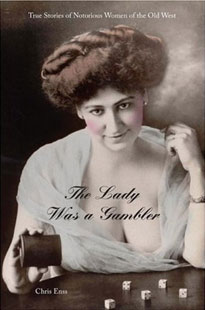 You might enjoy reading The Lady Was a Gambler: True Stories of Notorious Women of the Old West by Chris Enss

The American Old West was made up of miners, trappers, business owners and gamblers and many of those were women. Amidst mining camps, cow towns, desolate landscapes and filthy boomtowns were a succession of women who survived dangerous gambling games against ruthless rowdy men whose pride was staked on always having the upper hand. In the first book of its kind, author Chris Enss presents an action-filled true portrait of fifteen notorious women gamblers from the American Old West. Among those profiled are: "Poker" Alice Ivers, the finest player bar none from Deadwood to Tombstone; Eleanora Dumont, the American Old West's hottest twenty-one dealer; and Lottie Deno, the beautiful faro dealer who gambled all the way from Texas to Alaska. Enss describes the settings, and the stakes, with vintage photographs, as well as the popular games of the times: Poker, Faro, Dice, Monte, Craps, Chuck-A-Luck, and Fan Tan, among them. Their legacy had almost disappeared, but the recent surge in poker players coast to coast and the growth of gambling demanded that these real women, at long last, be remembered for the true adventurers, and winners, they made of themselves.