Enter now for a chance to win a copy of
The Trials of Annie Oakley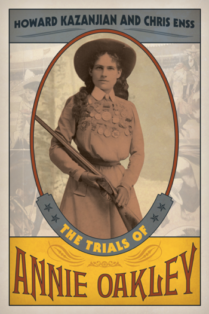 Today, a few quotes from Annie Oakley.
"God intended women to be outside as well as men, and they do not know what they are missing when they stay cooped up in the house."
"I am, indeed, very grateful for your many kind words in my obituary. How such a report started I do not know. I am thankful to say I am in the best of health."
"After traveling through fourteen foreign countries and appearing before all the royalty and nobility I have only one wish today. That is that when my eyes are closed in death that they will bury me back in that quiet little farm land where I was born."
"Aim at a high mark and you will hit it. No, not the first time, not the second time and maybe not the third. But keep on aiming and keep on shooting for only practice will make you perfect.
Finally you'll hit the bull's-eye of success."
"My mother and sisters thought my prowess with the gun was just a little tomboyish"
"I would like to see every woman know how to handle [firearms] as naturally as they know how to handle babies."
"My mother…was perfectly horrified when I began shooting and tried to keep me in school, but I would run away and go quail shooting in the woods or trim my dresses with wreaths of wildflowers."
To learn more about the famous sure shot read
The Trials of Annie Oakley