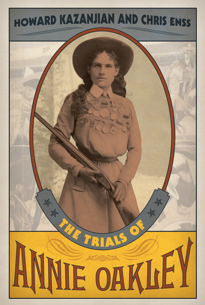 Long before the screen placed the face of Mary Pickford before the eyes of millions of Americans, Phoebe Anne Oakley Moses—aka "Annie Oakley"—had won the right to the title of the first "America's Sweetheart." The world loved Annie Oakley, but the road to fame and affection was filled with trials and tribulation. Authors Howard Kazanjian and Chris Enss have written about those difficulties in the new book The Trials of Annie Oakley.
The life story of Annie Oakley is a combination Cinderella fairy story and frontier melodrama. Born in a humble log cabin in Ohio in 1860, young Annie began shooting game to help support her six siblings and twice-widowed mother. At fifteen, she entered a shooting contest where she ended up winning first prize by outshooting her future husband, who also became her manager.
She became well known and loved worldwide for her incredible shooting performances with Buffalo Bill's Wild West Show, where she captured the hearts of young and old, ruffians and royalty. But she fought many battles along the way—for her life after severe accidents, and for her reputation after becoming the subject of a scandal that spread through the media like wildfire. Throughout her triumphs and trials, however, Annie Oakley never failed to advocate for the causes and individuals about which she was most passionate.