Enter for a chance to win a copy of
Wicked Women:
Notorious, Mischievous, and Wayward Ladies from the Old West.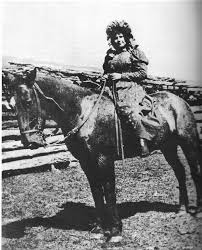 As Ella "Kate" Watson sashayed down the crude staircase of the Rawlins, Wyoming saloon and brothel where she worked she inspected the potential customers in the smoke-filled bar. Eager cowboys eyed her hourglass form as she brushed by them. They sniffed the air after her, breathing in the scent of jasmine she left behind. Kate looked past the scruffy wranglers vying for her attention and fixed her gaze on a tall, lean, well-dressed man sitting alone at a table, drinking.
"I'm Kate," she purred to the handsome gentlemen as she walked up to him. "Would you like some company?"
The man nodded, smoothed down his mustache, and slammed down another shot of whisky. "Jim Averill. I'm pleased to meet you."
Kate had seen Jim Averill in the saloon before. He wasn't like any of the other men who frequented the bordellos where she worked. Jim was a civil engineer and a gifted writer who had served in the army. His entrepreneurial spirit had driven him west to make his fortune in whatever venture presented itself. When Kate and Jim met on February 24, 1886, Jim was ranching. He owned a small spread along the Sweetwater River where the Rawlins-Lander stage line crossed the Oregon Trail. The supply store he had opened at the stage stop was very profitable. He sold groceries, whisky, and other items cowboys needed.
Kate had long since given up hope of ever meeting an accomplished man like Jim Averill. She was the daughter of a wealthy farmer in Smith County, Kansas and was accustomed to fine things. In her teens she married a man who promised to provide her with the lifestyle in which she was raised, but the marriage ended when she found him with another woman. By the time she was twenty Kate was divorced and earning a living as a prostitute in Wyoming. She preferred to work at houses in cow towns rather than bergs near army outposts because cowboys paid better.
Kate was too ambitious to remain a common percentage girl. She was always looking for new opportunities – opportunities that would lead her to a position of wealth and power. Jim Averill possessed the same drive and Kate fell in love with him. After the two enjoyed a few days of pleasure Jim rode back to his ranch. Kate was left alone in her room at the brothel praying he would return her feelings. But Jim Averill had other things on his mind for the time being.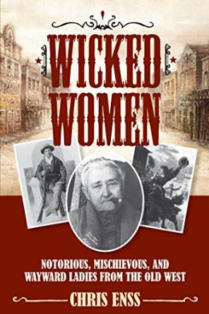 To learn more about the wild ladies on the rugged frontier read
Wicked Women:
Notorious, Mischievous, and Wayward Ladies from the Old West.