Don't wait. Enter now to win a book for history lovers and brides to be who believe the risk is worth it all – Object Matrimony: The Risky Business of Mail-Order Bride Matchmaking on the Western Frontier.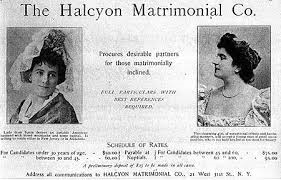 Matrimonial clubs date as far back as 1849. Lonely hearts from Syracuse, New York, to San Francisco, California, joined such organizations in hopes of finding a suitable mate with whom to spend the rest of their lives. The New Plan Company based in Kansas City, Missouri, was a matrimonial club that claimed to have more than thirty-two thousand members during its existence from 1911 to 1917. According to the New Plan Company's handbook, printed in the fall of 1910, the plan and method of the club were simple and easy to understand and follow.
"Our time and money is devoted entirely to the interest of the unmarried. We are dedicated to elevating and promoting the welfare of marriageable people and furnishing them with a safe, reliable, and confidential method at a nominal cost, whereby good honorable people of sincere and moral intentions, may better enable themselves to become acquainted with a large number of such people of the opposite sex as they may deem worthy of consideration, which may lead to their future happiness and prosperity."
The follow are a sample of some of the ads placed in The New Plan Company catalog:
American; widow by death, age 38; weight, 135; height, 5 feet 6 inches; brown eyes; brown hair; Methodist religion; occupation, housewife, income $700 per year, business education and musician. Have means of $10,000. I am considered very good looking and neat. Will marry if suited.
A nice little blue-eyed Miss from North Carolina, with brown hair, age 18, weight 125, height 54 inches, fair complexion; can sing and plan piano; have a fine home, also have means of $50,000; my occupation is trained nurse; would like to hear from a nice young man of suitable age, rich or poor, but must be good-hearted and true; will marry a true love only.
Am not considered good looking, but make a nice appearance; plain, and neat dresser; immaculate character; quiet, loving disposition; Christian religion, age, 22; weight, 135; height 5 feet 4 inches, blue eyes; blonde hair; light complexion. Would like to hear from gentleman interested in missionary work.
To learn more about the mail-order bride business in the Old West or to read exciting tales about mail-order brides read
Object Matrimony: The Risky Business of Mail-Order Matchmaking on the Western Frontier.