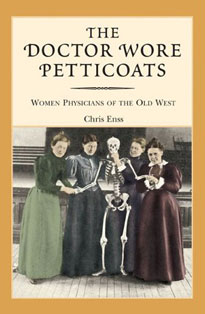 Did you know that heroic women physicians of the West helped pave the way for famous women biologists and scientists of today?
You might enjoy reading The Doctor Wore Petticoats:
Women Physicians of the Old West, by Chris Enss

Famous women biologists owe the opportunity to pursue their profession to the early women physicians of the Old West. Despite the dire need for medical help, it seemed most trappers, miners, and emigrants would rather suffer and die than be treated by a female doctor. Nevertheless dozens of highly trained women physicians, biologists, and scientists headed West, where they endured hardship and prejudice as they set broken limbs, performed operations, delivered generations of babies–and solidified a place for women in the medical field. Susan La Flesche, the youngest daughter of an Omaha Indian Chief, felt called to medicine when at the age of twelve she saw a woman die because a government-paid doctor was too busy hunting prairie chickens to help. Destitute divorcee Bethenia Owens Adair became famous by trading in laundry work for a successful medical practice. Flora Hayward Stanford, the first female doctor in Deadwood, was known to patch up gunfight victims and to treat the likes of Buffalo Bill Cody and Calamity Jane. With a determination and strength of spirit that resonates even today, these incredible women physicians, biologists, scientists and seven others profiled in The Doctor Wore Petticoats are sure to inspire.