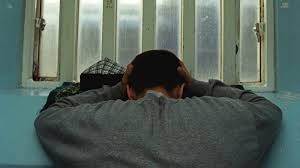 The contact known as Deep Throat in the Watergate scandal coined the phrase "follow the money." Following the money more often than not leads to the culprit of a crime and provides a motive. For more than a six months I've been "following the money" involved in the case against my brother. Armed with his power of attorney I've pursued every credit card that has been acquired in his name since he has been incarcerated. The findings all lead back to two people. Those two people have for years been using my brother's name and social security number to acquire credit cards and loans.
According to the Mastercard bill I just received – account ending in 8636 – my brother has been living large since being incarcerated. As recently as June 10, 2014, my brother, who has been locked up in a federal prison for more than eleven years and who has Parkinson's disease, has spent time at the Smoke Stack BBQ in Kansas City, Missouri, The Olive Garden in Independence, Missouri, shopped for clothes at a TJ Maxx in Kansas City, Missouri, and gassed up a vehicle at a Conoco Smart Mart in Kansas City. What's even more peculiar is that my brother signed his name to these charges. It's peculiar because Parkinson's has made it nearly impossible for Rick to hold a writing instrument or write his name.
The spokesman at the credit card company told me that they couldn't give me any legal advise, but suggested I hire an attorney to fight what is being done. I have plans to do just that.
Several years ago, long before this nightmare began, Rick's ex-wife and her daughter stopped me in Norborne, Missouri to show me a ring Rick's ex-wife had just purchased for her daughter. They couldn't wait to show me the expensive birthstone ring. Great fuss was made over the ring and more than once my ex-sister-in-law informed me that "Her daughter was the most beautiful girl in the world" and "deserved the ring she bought for her." I was regaled with the details of when and where the ring was purchased and the occasion for the purchase.
The Mastercard bill I recently received has the date, name of the store the ring came from, and the name of my ex-sister-in-law as the one who made the purchase. I bring this up only because one of the accusations made by Rick's ex-wife and step-daughter was that he purchased that ring to entice her into doing bad things with him. That was a lie.
Many more lies have been uncovered going through the charges on the Mastercard and other bills in my brother's name. The most glaring of course is that Rick couldn't possibly be using a credit card or attending any of the stores, restaurants, movie theatres, and hotels listed on the charges. HE IS IN A FEDERAL PRISON and has been for more than a decade.
This serves as another example of the fact that accusations made against my brother were lies. How can you trust those who continue using credit cards in someone else's name? They are liars and have been for some time.
People think that a liar gains a victory over his victim. What I've learned is that a lie is an act of self-abdication, because one surrenders one's reality to the person to whom one lies, making that person one's master, condemning oneself from then on to faking the sort of reality that person's view requires to be faked…The woman who lies to the world, is the world's slave from then on…There are no white lies, there is only the blackest of destruction, and a white lie is the blackest of all.
I will be seeking legal counsel on this matter and passing along this information to the people involved in the case against my brother.
More to come…