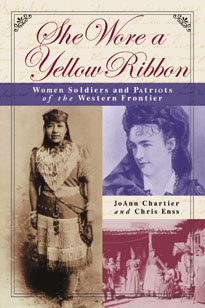 Are you interested in stories about great women in history?
You might enjoy reading She Wore A Yellow Ribbon: Women Soldiers and Patriots of the Great Frontier, by JoAnn Chartier and Chris Enss

Some of the great women in history made their mark on the battlefields of the Old West. From the earliest days of the western frontier, women heeded the call to go west along with their husbands, sweethearts, and parents. While many of these great women in history were attached to the army camps and outposts that dotted the prairies, others were active participants in the skirmishes and battles that took place in the western territories. Each of these great women–wives, mothers, daughters, laundresses, soldiers, and shamans–risked their lives in unsettled lands, facing such challenges as bearing children in primitive conditions and defying military orders in an effort to save innocent people.
She Wore a Yellow Ribbon tells the stories of twelve such great women in history who served their country on the early frontier. These heroic women–Buffalo Soldiers, scouts, interpreters, nurses, and others–displayed a depth of courage and physical bravery equal to or surpassing that of many men of the time. Their remarkable commitment and willingness to throw off the constraints of nineteenth-century conventions helped build the West for generations to come.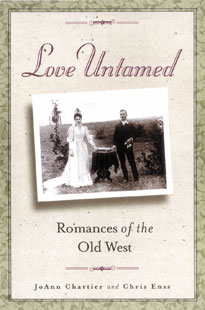 For more stories about great women in history…
You might also enjoy reading Love Untamed:
Romances of the Old West, by Chris Enss

Many of the great women in history were romantically linked to famous old west figures. In these pages you'll meet a soiled dove who longed for a fairy-tale romance but instead fell for an ailing miner; a quiet schoolmarm who risked life and limb for her adventuresome husband; a spinster who refused to reveal the secrets of her heart despite a proposal from a dashing, prominent rancher; an actress who found her true love when she needed him most; and a rich couple who lost everything except their intense dedication to each other. The romances of thirteen women in history are explored in this book and represent the variety of relationships and love affairs that added color, controversy, and commitment to the unmatched days of the Old West.