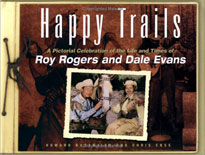 More than six decades have passed since Roy Rogers and Dale Evans first rode the celluloid range together, yet they continue to be loved and admired in a way few – if any – celebrities can claim. They co-starred in twenty-nine motion pictures and recorded more than 200 albums together, and they brought their talents to television in the 1950s, entertaining a large audience with The Roy Rogers Show.
Happy Trails shares intimate photographs of the lives and fifty-six-year partnership of this famous couple, both on and off the screen. From their first singing jobs to their successful film careers, the photographs chronicle the duo's early struggles and slow rise to stardom. On the home front, their faith was constantly tested by the struggles in their personal lives. Roy's first wife died, leaving him with three children to bring up alone. After Roy and Dale were married, their two-year-old daughter died, a second daughter died in a tragic accident and a son died suddenly overseas.
The family photographs show the family's steadfast faith and endurance during tough times and their love and warmth during happier times, when the children were young and their parents were not only superstars, they were "Mom" and "Dad."
Roy Rogers and Dale Evans were the reigning royalty of B Western movies for more than a decade and they parlayed their fame into a ten-year hit television show, becoming overnight heroes to millions of boys and girls. With never-before-published family photographs and personal reminiscences, Happy Trails shares the struggles, triumphs, and seldom seen home life of this famous husband-and-wife duo. Included are private photographs from their childhoods, early singing careers, marriage, and family life with their nine children, as well as publicity photographs of the "King of the Cowboys" and the "Queen of the West" with Trigger, Bullet, Gabby Hayes, and Pat Brady.