Enter now to win
The Cowboy & the Senorita: A Biography of Roy Rogers and Dale Evans.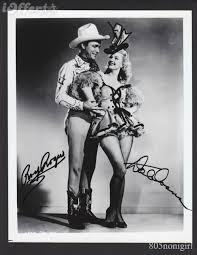 Dale Evans was born Frances Octavia Smith on October 31, 1912, in Uvalde, Texas. In her words, her upbringing was "idyllic."  As the only daughter of Walter and Betty Sue Smith, she was showered with attention and her musical talents were encouraged with piano and dance lessons.
While still in high school, she married Thomas Fox and had a son, Thomas Jr. The marriage, however, was short-lived.  After securing a divorce, she attended a business school in Memphis and worked as a secretary before making her singing debut at a local radio station.  In 1931 she changed her name to Dale Evans.
By the mid-1930s, Dale was a highly sought-after big-band singer performing with orchestras throughout the Midwest. Her stage persona and singing voice earned her a screen test for the 1942 movie Holiday Inn.  She didn't get the part, but she ended up signing with the nationally broadcast program the Chase and Sanborn Hour and soon after signed a contract with Republic Studios.  She hoped her work in motion pictures would lead to a run on Broadway doing musicals.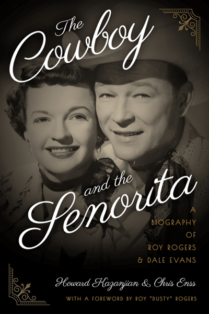 To learn more about Roy Rogers and Dale Evans read
The Cowboy and the Senorita.