Enter to Win a copy of the
Death Row All Stars: The Story of Baseball, Corruption, and Murder.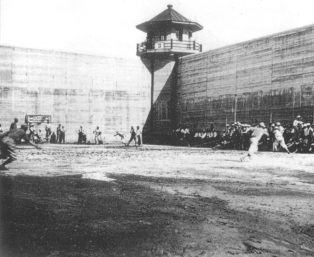 The sheriff of Uinta County delivered Joseph Seng to the state penitentiary on April 18, 1911. An endless blue sky was the backdrop for the massive, three-story structure that day. High, barbed wire fence lined the building on all sides, and a plaque on the structure read "Welcome to the Crossbar Hotel".  Felix Alston, who had taken over the duties of prison warden the day before, watched Seng arrive. A pair of guards helped the shackled and handcuffed prisoner out of the vehicle in which he was transferred. The iron-barred door in front was opened, and Seng was escorted inside the penitentiary. The doors were then closed and locked behind him.
According to Joseph Seng's family, his father, Anthony, had cried when he read an article about his son in the April 22, 1911, edition of the Wyoming Press. "On last Monday morning Sheriff Ward and Special Deputy Sam Rider took Joseph Seng, the convicted murderer of William Lloyd, to the penitentiary where the man will be confined until he is executed," the report announced. "Seng was handcuffed to Sheriff Ward . . . he passed through the streets of Evanston thus manacled; he was smoking a cigar, and was accompanied by his customary indifference as to the gravity of the situation."
There was a standard routine for admitting an inmate into a state facility. The guards would lead a prisoner into an intake room and remove his shackles and chains. They would remove all items from the prisoner's pockets and set them aside on a table to be inventoried. The prisoner was then ordered to remove his clothes. A guard carrying a fire hose would enter the intake room and point the hose at the prisoner. When the water was flipped on, the force generally slammed the prisoner back against the stone wall. After a few moments, the water was shut off, and the guards would pull the prisoner to his feet. A huge scoop of delousing powder was then tossed on him. Gasping and coughing, blinking powder from his eyes, the prisoner was then shoved toward a trustee cage, a small, defined area where the "trustee," an inmate who had proven himself trustworthy and had been given a job within the prison, was separated from the prisoner by a thick wall of wire rope with a small slot in it.
To learn more about the inmates who played ball at the Crossbar Hotel read the
Death Row All Stars: The Story of Baseball, Corruption, and Murder.