Enter now for a chance to win a copy of
The Trials of Annie Oakley.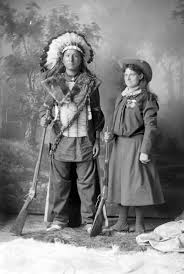 "Aim for the high mark and you will hit it. No, not the first time, not the second time and maybe not the third. But keep on aiming and keep on shooting for only practice will make you perfect. Finally you'll hit the bull's-eye of success."
"Even in the best and most peacefully civilized countries many occasions arise when a woman versed in the knowledge and use of firearms may find that information and skill of great importance."
"God intended women to be outside as well as men, and they do not know what they are missing when they stay cooped up in the house."
"After traveling through fourteen foreign countries and appearing before all the royalty and nobility I have only one wish today. That is that when my eyes are closed in death that they will bury me back in that quiet little farm land where I was born."
[On Sitting Bull:] "The contents of his pockets were often emptied into the hands of small, ragged little boys, nor could he understand how so much wealth should go brushing by, unmindful of the poor."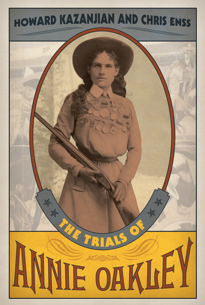 To learn more about the famous sure shot read
The Trials of Annie Oakley.