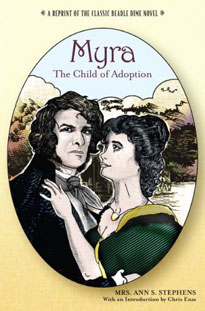 Infant Myra is adopted by a wealthy couple and raised in a loving home, unaware of her true parentage and the deception that tore her biological family apart. But when Myra's adoptive father is riled by her choice of suitor, he reveals the shocking secret of her birth, setting in motion Myra's fight to regain her family honor and fortune.
Based on the life of Myra Clark Gaines, whose legal battle was one of the most sensational cases of the nineteenth century, this romantic tale is as suspenseful now as it was when it was first published in 1860.
It is with great pleasure that we bring this classic series of Beadle & Adams dime novels to a new generation. The themes of the American spirit and determination, of courage and bravery, and of friendship, love, and honor are timeless.