Play Ball. Enter to win a copy of
The Death Row All Stars: A Story of Baseball, Murder, and Corruption.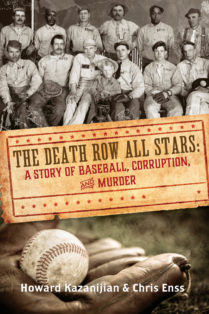 Photographer M. F. Jukes squeezed the rubber bulb attached to the camera standing next to him, and a bright white flash lit up a section of the penitentiary dining hall. When the flash faded Alston's All Stars became visible. Dressed in dark uniforms and corresponding caps with the initials WSP stitched across the front and carrying well-worn baseball gloves, team members held their proud pose until Jukes gave them permission to relax. The men talked among themselves as the prominent Rawlins photographer adjusted the shutters around the lens in preparation for the next shot. A sign among his camera equipment on a nearby table read, "Pictures in black and white or Sepia finish, on stiff cards, folders or flexible mountings. Various prices, one of which will suit your pocket. Come in at any time, or if more desirable, phone for an appointment. Settings done upon request. Most locations acceptable."
At the appropriate time each player resumed his position for another picture to be taken. The first time the prisoners had gathered together for a photograph, they had been dressed in the clothing issued to them by the penitentiary officials as part of their incarceration. The inmate numbers they had been assigned were scrawled over the left breast pocket of their shirts, and the baseball equipment they had held consisted of castoffs from players who had abandoned the game some time ago. In this photo, taken after their first wins, the convicts were different in dress and style. Their coordinating outfits gave them an air of professionalism. Some reverently cradled in their arms the gloves and baseballs they would use in upcoming games; others wore their mitts on their hands to show how ready they were to play.
Joseph Seng stood on the left end of the back row with his hand on his hip. His mustache was neatly trimmed, and his cap was pulled down low on his forehead. His serious expression conveyed that he was a fierce opponent to other teams. Convicted rapist Eugene Rowan stood on Seng's right, and beside him was George Saban. Saban's shoulders were pulled back as though he were at attention. The top button of his shirt was undone, his neck being too thick to allow him to fasten it. Swindler Earl Stone, gambler and attempted rapist James Powell, and larcenist H. A. Pendergraft were on Saban's right. Four-year-old Felix Vern Alston Jr. sat on a stool just below Saban wearing a dark blue uniform, stockings, and dark blue cap. On either side of him were murderer Joseph Guzzardo and thief Frank Fitzgerald; condemned rapist Thomas Cameron and burglar John Crottie bookended the bottom row.
The photograph was proudly displayed in the warden's office. Felix Jr., whom Alston had made the team mascot, is in the middle of the criminal offenders, wearing the team's uniform and smiling at the camera. Nothing in the team photo would have led anyone to imagine that the players had run afoul of the law.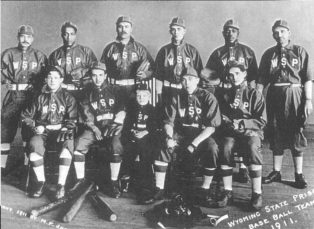 To learn more about the inmates who played ball for their lives read The Death Row All Stars: The Story of Baseball, Murder, and Corruption.