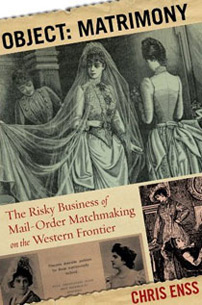 Desperate to strike it rich or eager for free land, men went into the frontier West alone and sacrificed many creature comforts. Only after they arrived at their destinations did some of them realize how much they missed female companionship.
One way for men living on the frontier to meet women was through subscriptions to heart-and-hand clubs. The men received newspapers with information about women with whom they could correspond—sometimes with photographs. Eventually a man might convince a woman to join him in the West, and in matrimony.
Complete with historic photographs and actual advertisements from both women seeking husbands and men seeking brides, Object Matrimony includes stories of courageous mail order brides and their exploits as well as stories of the marriage brokers, the mercenary matchmakers looking to profit off of the miners and settlers. Some of these stories end happily ever after; others reveal desperate situations that robbed the brides of their youth and sometimes their lives.