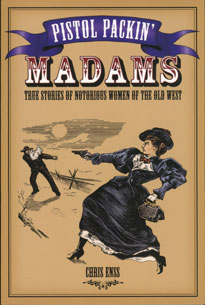 The picture of the early American West would not be complete without a fashionably dressed madam standing at the top of the saloon stairs surveying the activity below. More than just casual observers, these tough-talking and whip-smart women often had a pistol hidden in the folds of their skirts, ready to take on cowboys, ranchers, lawmen–any man who dared to cause trouble on the premises or to threaten their livelihood.
In a time when most women were dependent on husbands and fathers, madams–the women who owned, managed, and maintained brothels–took fate into their own hands, using feminine wiles and an abundance of sheer grit to make a living on the hard edge of the frontier West.
Pistol Packin' Madams examines the stories of these resourceful, oft-maligned women, whose combined adventures offer a colorful portrait of the early days of the West.