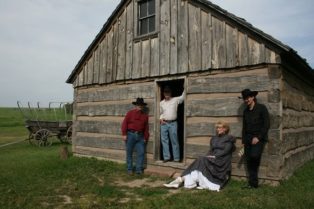 Grass Valley, CA. – Take a literary ride with the Most Intrepid Western Author's Posse as they travel through the great "Show Me State" of Missouri. The Most Intrepid Western Author's Posse is comprised of five published, award-winning western authors; Monty McCord author of Mundy's Law: The Legend of Joe Mundy and Hastings: The Queen of the Plains; Sherry Monahan author of Mrs. Earp: The Wives and Lovers of the Earp Brothers, The Cowboy Cookbook, and the Western Writers of America Cookbook; Bill Markley, author of Deadwood Dead Men and Dakota Epic: Experiences of a Reenactor During the Filming of Dances with Wolves, Kellen Cutsforth, author of Buffalo Bill, Boozers, Brothels, and Bare-Knuckle Brawlers: An Englishman's Journal of Adventure in America and Chris Enss, author of Ma Barker: America's Most Wanted Mother, Frontier Teachers: Stories of Heroic Women of the Old West, Hearts West: Mail Order Brides of the Old West, and Object Matrimony: The Risky Business of Mail-Order Matchmaking on the Western Frontier will tell exciting tales of the Old West.
Stories told by the posse promise to transport readers back to the days of the wild frontier when times were rowdy and justice was swift.
The Most Intrepid Western Author's Posse's first stop will be in Saint Joseph at the historic Robidoux Row Museum on Saturday, June 17 from 4 P.M. to 6 P.M.  On Sunday, June 18 the Posse will be at Barnes and Noble at 19120 East 39th St. in Independence from Noon to 1 P.M.  The Posse will be discussing their books and the taming of the Wild West.
For more information email gvcenss@aol.com.