Enter now for a chance to win a copy of
The Trials of Annie Oakley.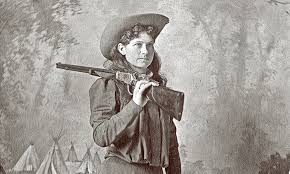 It was three o'clock in the morning when Southern Railway Engine 75 collided with western legend and showman Buffalo Bill Cody's train outside Lexington, North Carolina, on October 29, 1901. The rumble of the trains hurrying toward one another sounded like the gathering of a cyclone. Whistles blew and brakes scrapped hard against the rails in a desperate attempt to prevent the crash, but the impact was unavoidable.
The force of the engines smacking into one another caused the derailment of the cars in tow, and all at once the air was filled with flying missiles of iron and wood. Smoke poured in great black streaks from the steam funnels, and the popping of steam rose high in the air. A veritable hell of fire erupted. Members of the cast and crew of Buffalo Bill's Wild West show fought madly in their attempt to crawl out the doors and windows of the overturned cars. Horses trapped in the twisted, mangled debris whinnied and brayed frantically.
People rushed to the scene from nearby farmhouses and stood helplessly around the wreckage holding their hands to their ears in order to shut out the frightful screams of the injured passengers and animals. Gathering their composure, they fought to rescue the hurt from the coaches scattered about the landscape. Slowly the suffering were lifted from the destruction and carried to a grassy field. Many cried and groaned in pain, their heads and hands cut and blood streaming from their wounds.
Annie Oakley, world famous exhibition sharpshooter was one of the unfortunate victims of the train wreck. She was lying unconscious somewhere among the rubble. The car where Annie and her husband Frank had been sleeping was turned upside down. When the engines slammed into one another and their car tumbled over, the petite entertainer was thrown from her berth onto a trunk. Before hitting the trunk with her back, she tried to break the fall by putting her hand out. Both her hand and back were injured. Frank suffered only minor cuts and bruises. He carried his wife out of the wreckage to the spot where the other hurt passengers had been taken. Annie's eyes fluttered open long enough to see the severely damaged vehicle. What once had been a speeding marvel was now a broken scrap heap.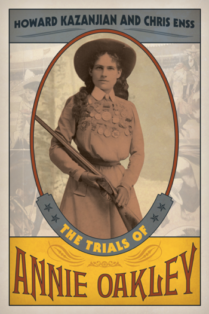 To learn more about the famous sure shot read
The Trials of Annie Oakley.