Enter now to win
The Cowboy & the Senorita: A Biography of Roy Rogers and Dale Evans.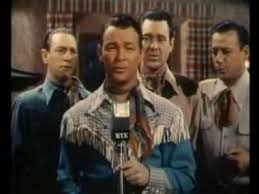 Before he got his big break, Leonard Slye toured the country with various bands he helped form. One such band, the Sons of the Pioneers, became a popular western group on Los Angeles radio station KFWB. By 1935 the five-minute combo was playing a variety of dates and doing background music for motion pictures.
After hearing about a Republic casting call to find a new singing cowboy, Leonard decided to venture away from troupe to audition. He snuck onto the studio lot and wound up in the office of the producer who had initiated the search for a singing cowboy. Leonard was just what the producer was looking for, and on October 13, 1937, a newly named Roy Rogers signed a contract with the studio.
To learn more about Roy Rogers and Dale Evans read
The Cowboy and the Senorita.