Enter to win a book for history lovers and brides to be who believe the risk is worth it all – Object Matrimony: The Risky Business of Mail-Order Bride Matchmaking on the Western Frontier.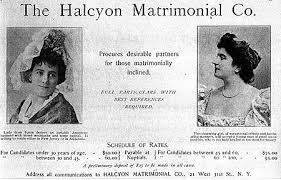 Annie Gayle was considered one of the prettiest, most ambitious girls in Akron, Ohio. Her eyes were large, her features were well proportioned, and her desire to go west was her number-one aspiration. She was well on her way to achieving her goal when she accepted the proposal of a man living in French Camp, California. He had advertised for an adventurous woman anxious to settle in the Gold Country and experience the excitement of the wild frontier. Annie wasted no time favorably responding to his letter asking for her hand in marriage.
Born an only child in 1874 to Charles Gayle and Margaret Stantz Gayle, Annie grew up hearing her father's tales of the land beyond the Rockies and the endless possibilities to be had there. Charles died before he realized his own dream of moving to San Francisco. Fearing that the chance to make such a journey had died with her father, Annie decided to consider mail-order bride opportunities.
Horace Knapp, a handsome man in his late forties, collected his teenage bride-to-be at the train depot in Sacramento, California, on September 10, 1890. Annie was anxious to meet the sheepish suitor who had described himself in his letters as a "good fellow, with means and prospects." The plan was for the two to marry the day after Annie arrived—and only if their first encounter proved to be mutually satisfactory. The couple dined together and discussed their possible future. By the end of the evening they were in complete accord to wed. Vows and a ring were exchanged the following morning.
Annie was delighted not only to be married, but also finally to be at a location that seemed bursting with potential. If she had remained in Ohio working at a millinery shop, life as a farmer's wife was the best she thought she could hope for. She believed being Mrs. Knapp would bring her happiness, and she therefore surrendered to her husband the small amount of money she had earned working as a seamstress in Akron. It never crossed her mind that Horace might be untrustworthy. She was honest and thought everyone else was as well.
The newlyweds moved to a small cabin nestled in a mining community in the San Juan Valley. Everything went along nicely. It was as though the couple had been settled for years in their new position. Horace invested his wife's funds in a mining venture he explained to her would produce great dividends—enough for them to see the world beyond California. Annie was thrilled by the idea, and while her husband was away tending to their interests, she planned trips to distant lands.
One night, alone again in their fledgling homestead, a ragged little boy arrived at the doorstep and delivered a soiled note to her. It read as follows: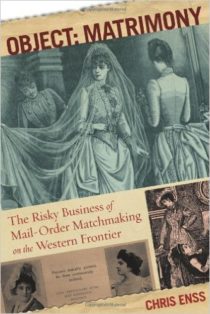 To learn more about the note found on the doorstep and tales from other mail-order brides read Object Matrimony: The Risky Business of Mail-Order Matchmaking on the Western Frontier.