Enter to win a copy of the book
The Death Row All Stars:
The Story of Baseball, Corruption, and Murder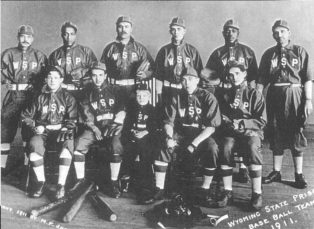 On Friday, May 24, 1912, Wyoming citizens awoke to the news that the execution of Joseph Seng had been carried out and that his body had been shipped to his aged mother. Below an article about the hanging posted on the front page of the Wyoming Tribune was a column announcing the scores of the National and American League baseball teams that had played the day before Joseph was put to death. In stories that appeared about Seng's execution in newspapers as far away as Wellsville, New York, writers included a few sentences about how well the former inmate had played the game of baseball. Alston's All Stars never played again.
By the end of 1911, two of the infielders and two other players had served their time and had been granted parole. Utility player Ora Carman's sentence expired on September 15, 1911, as did that of the left fielder Earl Stone. Third baseman John Crottie was released in November 1911, and second baseman Frank Fitzgerald was released in December 1911. In 1912 several more players departed the prison. Left fielder H. A. Pendergraft was granted parole in January 1912. Center fielder Sidney Potter's sentence concluded in June 1912, and so did that of pitcher Thomas Cameron. Cameron moved to Colorado and went to work as a coal miner. Shortstop Joseph Guzzardo was pardoned in July 1912 after helping to extinguish a fire at the penitentiary.
In early January 1913 team manager George Saban petitioned the State Board of Pardons for a reprieve, but his request was denied. Saban watched as Warden Alston's first baseman, Eugene Rowan, was granted parole in November 1913 and returned to his home in Rock Springs, Wyoming. On December 17, 1913, Saban escaped from the prison road gang he was working with near Manderson in Big Horn County. According to the December 25, 1913, editions of the Thermopolis Record and the Big Horn County Rustler, Saban had help with his getaway. On January 16, 1914, the Carbon County Journal joined them in pointing out that Warden Alston had extended to him "all the privileges that any man serving a penitentiary sentence of twenty years could expect and then some." The Journal article continued:
D. O. Johnson, a special prison guard, was assigned to escort Saban back to the prison in Rawlins. Saban asked to be allowed to visit Basin to attend to business at the bank. This was granted, and he and Johnson stopped at a hotel. About 7 o'clock that evening Saban was allowed to go out and see some friends and that was the last seen of him.
For some reason Johnson did not give the alarm until 11 o'clock the next morning, explaining his action by saying that he thought his explaining his action by saying that he thought his man would return and that to report him would be to take away his credits.
Saban seems to have evaporated. There are plenty of rumors but nothing authentic can be learned of his movements after leaving the hotel. It is said that an auto passed through Greybull [Wyoming] that night, but that might or might not mean anything. It is also said that his plan was to reach the coast and take passage for South America. There is another theory that he is hiding at the home of some friend in Basin.
All these stories are vague and may mean nothing. One thing is certain and that is that he ought to be easy to get if he is trying to make the getaway. The fact that he is a large man with a pleasant voice and manner, has a habit of smiling and showing a handsome set of teeth when he speaks, and has crippled hands ought to attract the attention of any officer who has his description.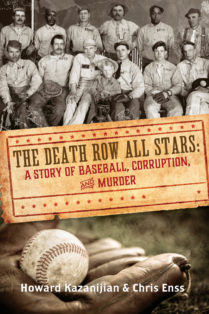 To learn more about inmates who played ball for their lives read the book
The Death Row All Stars:
The Story of Baseball, Corruption, and Murder.