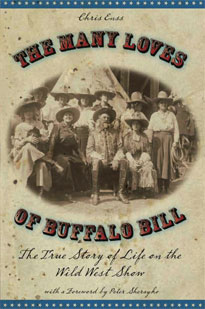 "What we want to do is give our women even more liberty than they have. Let them do any kind of work that they see fit, and if they do it as well as men, give them the same pay."
—William F. Cody, 1899
With rough-riding cowboys, sure shots, and fantastic reenactments of battles and train robberies, Buffalo Bill Cody brought the myth of the Old West to life for audiences all over the world—and some of the most popular cowboys in his Wild West Show were young ladies. Cody surrounded himself with strong, intelligent, talented, beautiful women—and this revealing portrait tells the stories of his life and of his relationships with many of the trick riders, sharpshooters, and other women associated with the show for which he was famous.