Enter now to win a book for history lovers and brides to be who believe the risk is worth it all – Object Matrimony: The Risky Business of Mail-Order Bride Matchmaking on the Western Frontier.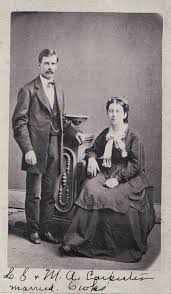 When Carroll B. Rablen, a thirty-four year old veteran of World War II from Tuttletown, California, advertised for a bride he imagined hearing from a woman who longed to spend their life with him hiking and enjoying the historic, scenic beauty of the Gold Country in Northern California. The ad he placed in a San Francisco matrimonial paper in June 1928 was answered by Eva Brandon. The thirty-three year-old Eva was living in Quanah, Texas when she received a copy of the matrimonial publication.
If Carroll had been less eager to marry he might have noticed the immature tone Eva's letters possessed. If he'd taken the time to scrutinize her words he might have been able to recognize a flaw in her thinking. According to the July 14, 1929 edition of the Ogden, Utah newspaper the Ogden Standard-Examiner, one of Eva's first correspondences demonstrated that not only did she seem much younger than thirty-three years old, but she also had a dark side. "Mr. Rablen, Dear Friend," the letter began. "You wrote about a son I have. He has had no father since he was a month old. The father left me. I haven't seen him. If a man leaves me I don't want to see them. And I'll make sure I can't."
Eva left Texas for California in late April 1929. She and Carroll were married the evening of April 29, 1929. The dance that followed the nuptials at the Tuttletown school house was well attended by Carroll's friends and neighbors. They were happy he had found someone to share his life. Eva twirled around the room dancing with anyone who wanted to join her. She was elated with her situation. Carroll on the other hand chose to wait outside for his new bride in the car. According to the Ogden Standard Examiner, Carroll was slightly deaf and despondent over the other physical ailments that kept him from fully enjoying the festivities.
When Carroll's father, Stephen Rablen began regaling guests with his rendition of the song "Turkey in the Straw" on his fiddle, Eva excused herself and went outside to visit with her husband. She took a tray of sandwiches and coffee to him. He smiled proudly at her and commented on how thoughtful it was for her to bring him some refreshments. Carroll helped himself to a cup of coffee, blew across the top of it to cool it down then took a sip. He made a bit of a face as if the coffee lacked something. He took another drink to determine what it needed.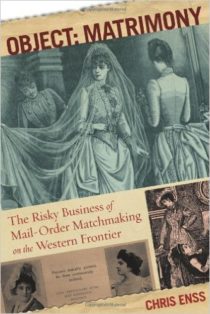 To learn more about how mail-order bride Eva Brandon killed
her husband read
Object Matrimony: The Risky Business of Mail-Order Matchmaking on the Western Frontier.