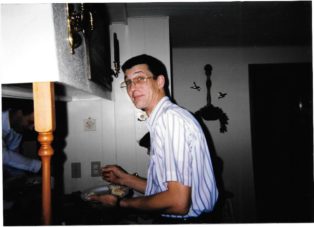 There's no other love like the love for a brother.  There's no other love like the love from a brother.
A very dear friend of mine lost her brother last week. He hanged himself and she's heartbroken.  Nothing can shake her belief that God has a plan and can use this devastating event to His glory.  She has not ceased to praise the Lord and pray for the lost to come to Him.  She is a gentle believer.  I admire her so much.  I am not a gentle believer and fear I never will be.  I don't doubt that God reigns but the sorrow over what happened to my own brother has not produced a prayerful or grateful spirit.  I'm angry and sick over the injustice that was done.  I prayed but there was no answer.  I haven't seen any miracle come out of the tragedy.  With these human eyes no matter what prayer I pray all I see is that the bad guys got away with murder.  I want to shout and scream and take the enemy on with all the passion of a knight in battle; to settle into the evil that is seems unnatural, unholy.  I believe that God cares, but thousands of hurts suggest to me that He just doesn't care enough.  Believing does not break into my soul gently.  Instead it sneaks into my heart while my mind cries out "My God where were You when I needed You."
Maybe I'm not alone. The following is a post I found on a site called topix.com.  Someone else knows what happened to my brother.  I refuse to believe that wrong won.  Oh, how I wish I were a gentle believer.
I miss you, brother. I always do.
fears retailation
Reply »

|

|

|

18 hrs ago

Guest wrote:

<quoted text> I'm listening. I remember the news stories, but not really any of the details.

Dottie was seeking a divorce. She did not pay bills in April 2004(the month she had to pay a retainer for a divorce attorney in Chillicothe. The only bills she paid in June 2004, were credit card bills. The accusation was made Father's Day. The church pastor, Keith Jones and other church heads told him of the accusation.(They were mandated reporters and didn't report the incident when they learned of it-). A week later Dottie lost custody of the kids for failing to cooperate with the investigation. She was allowed to have a voice as to where the kids went. The State place them with the pastor who failed to make the initial report of child abuse in the first place. The Jones' never had a background check as foster parents or was any of the process for being a foster family ever followed. Carroll County court testimony will validate this claim. They chose Keith and Debbie Jones in court. Since when does Missouri Department of Child Services not investigate a home where they temporarily place children? Scary!! She was told she would cooperate or she could not have the kids back. She made the house payment and paid other bills to continue living in the Enss house on 4th Street in Norborne. She got the kids back. Larry Wyrick State of Missouri Highway Patrol DDCC conducted interviews with the family. He did not video or record the interviews. There is no record of what the family members actually said. Wyrick only said that what he was saying we said was not verbatim. In other words, he made up what we said to mirror what he wanted us to say. Oh, did I say, he said he was out to hang a cop? DDCC investigators called Richmond PD chief and had PD disconnect Ricks computer. Wow. Their answer as to why they didn't retrieve the system themselves since they made the call and went straight to Richmond PD to pick it up was that they were there and could do it. I see a conflict of interest there but that was OK because it would make the case. The sign on for all of Richmond computers was their radio number. Doesn't seem like it would be too hard to use any of the computers at Richmond PD. The pedophile handbook that was on the computer-it was training material ordered by the department at the request of the former chief. The order was placed by the administrative staff of RPD. The curriculum for the FBI course Rick attended on sexual predators and computer crimes was never requested by the defense attorney. Since all pics on the RPD and RPD laptop were pictures "known to the FBI and no "real" victims were involved" would lead the reasonable person to believe that they too, were training material. Rick is in prison for child porn known to the FBI, with no real victims, no ties to any other person he might have exchanged pics with, no pornography ring ties, and no other real victims except his adopted daughter. The prosecution used pajama bottoms and diary from his biological daughter but according to them, she was not a victim. Investigator Wyrick thought it was more important to go on vacation rather than have an immediate SAFE exam on the victim. Remember, claims were made in June while the SAFE exam was made in July. The victim claims nothing ever happened when she was alone with her father, only when other family members were home. And she did't recall being "violently held down and raped until September. If a reasonable person would read the DFS reports and discovery of the case I believe one could clearly see a conspiracy=one to hang a cop. Maybe that is why JR Hobbs, Todd Graves office, the Federal Prosecutors office, and Dottie Enss are still so interested about anything Ricks family says in print. Did I mention that the defense attorney knew that his paralegal had family in Norborne MO and was in constant contact with that family and her friends. Conflict of interest?

fears retailation
Reply »

|

|

|

16 hrs ago

Judged:

1

Chris Enss wrote:

<quoted text> Why would someone in Washington state care about this case anyway?

The initial plea deal was for 5 years. Then the Federal Prosecutor and his "defense" attorney agreed on 15 years if he took the plea that Friday. The Prosecutor said she would add a year for everyday he didn't take it. Imagine that, the "defense" attorney didn't get back with the Prosecutor and until Monday afternoon. Funny how years were tacked on.