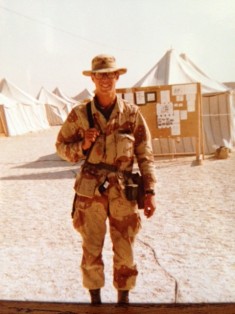 "Soldiers, sailors, airmen and Marines of the United States Central Command, this morning at 0300, we launched Operation DESERT STORM, an offensive campaign that will enforce the United Nation's resolutions that Iraq must cease its rape and pillage of its weaker neighbor and withdraw its forces from Kuwait. My confidence in you is total. Our cause is just! Now you must be the thunder and lightning of Desert Storm. May God be with you, your loved ones at home, and our Country." — General H. Norman Schwarzkopf, USA Commander-in-Chief U.S. Central Command, in a message to the command, 16 January 1991
I'm remembering my brother today. He was a proud soldier of Desert Storm. He loved his country. Who could have foreseen then that eleven years after his participation in the war the fight for his life would be fought not in a foreign land, but in his own home. False allegations of child molestation took everything he had and everything he was ever going to be. Just five years short of retiring from the army he was stripped of rank and mustered out without a hearing. All that's needed to ruin a life is an allegation.
I'm angry about what happened. I've been angry about it for ten years now. It's a righteous anger, one that cannot be dissolved with simple, adolescent notions such as "anger is an acid that can do more harm to the vessel in which it is stored than to anything on which it is poured."  I have moments when I can almost put aside my anger, but then the federal prison calls to inform me that my brother needs more medication to help with the tremors that come as a result of Parkinson's disease.  I approve the additional meds and then am promptly billed.  I contribute more than $200 a month to my brother's care at the medical facility where he resides.  That is the least I can do for someone who served his country.  It does not however, change the fact that I'm angry that he was falsely imprisoned and that my husband and I will be responsible for his care for the rest of his life.
False allegations of child abuse take a heavy toll on the family of the wrongly accused and it will never end. People you loved will turn away from you. The only way through the pain is to fight. Use the following tactics that have been proven over and over again.
Do not talk to the police alone! If you are accused of abuse, get a defense attorney to be present with you before you answer any questions.
 When dealing with a legal case with an allegation of child abuse, never accept a plea deal. A plea deal is an admission of guilt to a type of crime that is not tolerated in prison, and will likely have you attacked or killed there. Depending on the type of accusation, accepting a plea deal may also require you to register on a publicly available sex offender database for life, which will severely damage your reputation and freedom of movement. Do everything you can to prove yourself innocent.
Hire a good lawyer. Despite the huge financial burden of the cost of a lawyer, always show up to any legal proceeding with an excellent lawyer who will fight like a lion and know how to mediate an acceptable deal with the other side if all else fails. I have created a list of some of the best lawyers in the country who deal with false accusations. I'm happy to share the list with anyone who inquires.
You are playing a "poker game" with the other side. Collect "cards" or items of evidence that you can use for leverage to get what you want.
I wish I could remember my brother apart from this difficulty. I wish I could remember a time when I wasn't angry over the loss of life and relationships.
Most of us want to be remembered in a positive light. Soldiers like my brother want to be remembered as having been a patriot, a hero, someone who had been courageous and not cowardly. Regular folks want much the same. They want those who survive them to think well of them. They want the pastor or eulogist at their funeral to recall the good persons they had been. At their funeral or memorial service they want words which are kind and complimentary, flattering and approving.  The speaker who is summing up our lives can say anything he wants as long as it's nice and not nasty. Positive words… that's what we want carved into our marker; positive words that's what the preacher should say about us.
This trial with my brother has prompted an examination of my heart.  I know if anyone could look within my heart they would be so shocked at the filth they would see there, they would spit in my face.  Righteous anger often times crosses the line into bitterness.
Like King David in the Psalms, I think back on my sins and the walls I've built because I'm angry. I want to be remembered in a positive way, but must confess that I'm hardly worthy of the honor. My thoughts because of this situation with my brother have been dark and brooding; my endeavors marked by selfishness at times and my heart filled with jealousy.
I remember too much.