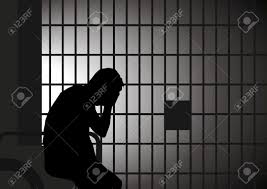 I hate that my brother is in federal prison for a crime he didn't commit. I hate that his life is constantly in danger and that he suffers. I hate that the people who contributed to this nightmare go about their lives unaffected and unpunished for what they've done.  Some days it's next to impossible for me to go about my life knowing that my brother suffers? Nothing will ever be right again. What I feel is a type of insane grief that won't fade away in this life time.
Why take a plea for a crime you didn't commit? I get asked that a lot. It's a long answer. It's information I wish I'd known eleven years ago.  It's information I've spent more than a decade complying. It all comes too late to help my brother.
Prison is Hell for the guilty; it is difficult to envision what it must be like for the innocent. How and why do innocent people confess or plead guilty to crimes that they did not commit? Roughly 20 percent of those that have been exonerated confessed to the crimes with which they were charged and convicted. Most of those involved persons who had actually gone to trial, but we have no way of knowing how many there are who merely entered guilty pleas through bargains and never appealed as a result. Although we hear and read about criminal trials, the reality is that only about 5 percent actually go to trial and the balance are resolved by plea agreements.
In most instances, a defendant will be required to make a choice between a plea of guilty or not guilty. When pleading guilty a defendant is required to "allocate" before the judge — admit the crime and furnish sufficient details to satisfy the court that he is indeed guilty. One cannot help wonder how and by whom an innocent defendant is furnished with enough information about the crime to satisfy the court of his guilt.
The problem is further complicated by the fact that it is more difficult to set aside a guilty plea than a conviction after trial. Once a person has admitted guilt and spelled out the details of the crime sufficient for the court to accept the plea, the chances of reversing such convictions are very slight if not nil. Most do not try. There's an enormous cost involved for taking on such a fight. It cost close to $345,000 to see my brother's case through to the point of preparing to go to trial. To have continued on would have cost more $550,000 more and no one in my family had that kind of money. No one in most families have that kind of money.
The reality is that without plea bargains the entire criminal justice system would come to a halt. Charges would be tried ten years after they were made. The only solution is vigilance by all those involved. The prosecutor, defense counsel and the court must be satisfied of the defendant's guilt before urging or accepting a plea. I recognize that there is no avenue to absolute certainty because the knowledge of guilt or innocence lies with the defendant, but all involved must strive not to imprison the innocent — even those who profess to be guilty.
The criminal justice system in the United States today bears little relationship to what the Founding Fathers contemplated, what the movies and television portray, or what the average American believes.
To the Founding Fathers, the critical element in the system was the jury trial, which served not only as a truth-seeking mechanism and a means of achieving fairness, but also as a shield against tyranny. As Thomas Jefferson famously said, "I consider [trial by jury] as the only anchor ever yet imagined by man, by which a government can be held to the principles of its constitution."
The Sixth Amendment guarantees that "in all criminal prosecutions, the accused shall enjoy the right to a speedy and public trial, by an impartial jury." The Constitution further guarantees that at the trial, the accused will have the assistance of counsel, who can confront and cross-examine his accusers and present evidence on the accused's behalf. He may be convicted only if an impartial jury of his peers is unanimously of the view that he is guilty beyond a reasonable doubt and so states, publicly, in its verdict.
The drama inherent in these guarantees is regularly portrayed in movies and television programs as an open battle played out in public before a judge and jury. But this is all a mirage. In actuality, our criminal justice system is almost exclusively a system of plea bargaining, negotiated behind closed doors and with no judicial oversight. The outcome
is very largely determined by the prosecutor alone.
In 2013, while 8 percent of all federal criminal charges were dismissed (either because of a mistake in fact or law or because the defendant had decided to cooperate), more than 97 percent of the remainder were resolved through plea bargains, and fewer than 3 percent went to trial. The plea bargains largely determined the sentences imposed.
While corresponding statistics for the fifty states combined are not available, it is a rare state where plea bargains do not similarly account for the resolution of at least 95 percent of the felony cases that are not dismissed; and again, the plea bargains usually determine the sentences, sometimes as a matter of law and otherwise as a matter of practice. Furthermore, in both the state and federal systems, the power to determine the terms of the plea bargain is, as a practical matter, lodged largely in the prosecutor, with the defense counsel having little say and the judge even less.
It was not always so. Until roughly the end of the Civil War, plea bargains were exceedingly rare. A criminal defendant would either go to trial or confess and plead guilty. If the defendant was convicted, the judge would have wide discretion to impose sentence; and that decision, made with little input from the parties, was subject only to the most modest appellate review.
After the Civil War, this began to change, chiefly because, as a result of the disruptions and dislocations that followed the war, as well as greatly increased immigration, crime rates rose considerably, and a way had to be found to dispose of cases without imposing an impossible burden on the criminal justice system. Plea bargains offered a way out: by pleading guilty to lesser charges in return for dismissal of the more serious charges, defendants could reduce their prison time, while the prosecution could resolve the case without burdening the system with more trials.
The practice of plea bargaining never really took hold in most other countries, where it was viewed as a kind of "devil's pact" that allowed guilty defendants to avoid the full force of the law. But in the United States it became commonplace. And while the Supreme Court initially expressed reservations about the system of plea bargaining, eventually the Court came to approve of it, as an exercise in contractual negotiation between independent agents (the prosecutor and the defense counsel) that was helpful in making the system work. Similarly, academics, though somewhat bothered by the reduced role of judges, came to approve of plea bargaining as a system to a regulatory regime.
Thus, plea bargains came to account, in the years immediately following World War II, for the resolution of over 80 percent of all criminal cases. But even then, perhaps, there were enough cases still going to trial, and enough power remaining with defense counsel and with judges, to "keep the system honest." By this I mean that a genuinely innocent defendant could still choose to go to trial without fearing that she might thereby subject herself to an extremely long prison term effectively dictated by the prosecutor.
All this changed in the 1970s and 1980s, and once again it was in reaction to rising crime rates. While the 1950s were a period of relatively low crime rates in the US, rates began to rise substantially in the 1960s, and by 1980 or so, serious crime in the US, much of it drug-related, was occurring at a frequency not seen for many decades. As a result, state and federal legislatures hugely increased the penalties for criminal violations. In New York, for example, the so-called "Rockefeller Laws," enacted in 1973, dictated a mandatory minimum sentence of fifteen years' imprisonment for selling just two ounces (or possessing four ounces) of heroin, cocaine, or marijuana. In addition, in response to what was perceived as a tendency of too many judges to impose too lenient sentences, the new, enhanced sentences were frequently made mandatory and, in those thirty-seven states where judges were elected, many "soft" judges were defeated and "tough on crime" judges elected in their place.
At the federal level, Congress imposed mandatory minimum sentences for narcotics offenses, gun offenses, child pornography offenses, and much else besides. Sometimes, moreover, these mandatory sentences were required to be imposed consecutively. For example, federal law prescribes a mandatory minimum of ten years' imprisonment, and a maximum of life imprisonment, for participating in a conspiracy that distributes five kilograms or more of cocaine. But if the use of a weapon is involved in the conspiracy, the defendant, even if she had a low-level role in the conspiracy, must be sentenced
mandatory minimum of fifteen years' imprisonment, i.e., ten years on the drug count and five years on the weapons count. And if two weapons are involved, the mandatory minimum rises to forty years, i.e., ten years on the drug count, five years on the first weapons count, and twenty-five years on the second weapons count—all of these sentences being mandatory, with the judge having no power to reduce them.
In addition to mandatory minimums, Congress in 1984 introduced—with bipartisan support—a regime of mandatory sentencing guidelines designed to avoid "irrational" sentencing disparities. Since these guidelines were not as draconian as the mandatory minimum sentences, and since they left judges with some limited discretion, it was not perceived at first how, perhaps even more than mandatory minimums, such a guidelines regime (which was enacted in many states as well) transferred power over sentencing away from judges and into the hands of prosecutors.
One thing that did become quickly apparent, however, was that these guidelines, along with mandatory minimums, were causing the virtual extinction of jury trials in federal criminal cases. Thus, whereas in 1980, 19 percent of all federal defendants went to trial, by 2000 the number had decreased to less than 6 percent and by 2010 to less than 3 percent, where it has remained ever since.
The reason for this is that the guidelines, like the mandatory minimums, provide prosecutors with weapons to bludgeon defendants into effectively coerced plea bargains. In the majority of criminal cases, a defense lawyer only meets her client when or shortly after the client is arrested, so that, at the outset, she is at a considerable informational disadvantage to the prosecutor. If, as is very often the case (despite the constitutional prohibition of "excessive bail"), bail is set so high that the client is detained, the defense lawyer has only modest opportunities, within the limited visiting hours and other arduous restrictions imposed by most jails, to interview her client and find out his version of the facts.
The prosecutor, by contrast, will typically have a full police report, complete with witness interviews and other evidence, shortly followed by grand jury testimony, forensic test reports, and follow-up investigations. While much of this may be one-sided and inaccurate—the National Academy of Science's recently released report on the unreliability of eyewitness identification well illustrates the danger—it not only gives the prosecutor a huge advantage over the defense counsel but also makes the prosecutor confident, maybe overconfident, of the strength of his case.
Against this background, the information-deprived defense lawyer, typically within a few days after the arrest, meets with the overconfident prosecutor, who makes clear that, unless the case can be promptly resolved by a plea bargain, he intends to charge the defendant with the most severe offenses he can prove. Indeed, until late last year, federal prosecutors were under orders from a series of attorney generals to charge the defendant with the most serious charges that could be proved—unless, of course, the defendant was willing to enter into a plea bargain. If, however, the defendant wants to plead guilty, the prosecutor will offer him a considerably reduced charge—but only if the plea is agreed to promptly (thus saving the prosecutor valuable resources). Otherwise, he will charge the maximum, and, while he will not close the door to any later plea bargain, it will be to a higher-level offense than the one offered at the outset of the case.
In this typical situation, the prosecutor has all the advantages. He knows a lot about the case (and, as noted, probably feels more confident about it than he should, since he has only heard from one side), whereas the defense lawyer knows very little. Furthermore
the prosecutor controls the decision to charge the defendant with a crime. Indeed, the law of every US jurisdiction leaves this to the prosecutor's unfettered discretion; and both the prosecutor and the defense lawyer know that the grand jury, which typically will hear from one side only, is highly likely to approve any charge the prosecutor recommends.
But what really puts the prosecutor in the driver's seat is the fact that he—because of mandatory minimums, sentencing guidelines (which, though no longer mandatory in the federal system, are still widely followed by most judges), and simply his ability to shape whatever charges are brought—can effectively dictate the sentence by how he publicly describes the offense. For example, the prosecutor can agree with the defense counsel in a federal narcotics case that, if there is a plea bargain, the defendant will only have to plead guilty to the personal sale of a few ounces of heroin, which carries no mandatory minimum and a guidelines range of less than two years; but if the defendant does not plead guilty, he will be charged with the drug conspiracy of which his sale was a small part, a conspiracy involving many kilograms of heroin, which could mean a ten-year mandatory minimum and a guidelines range of twenty years or more. Put another way, it is the prosecutor, not the judge, who effectively exercises the sentencing power, albeit cloaked as a charging decision.
The defense lawyer understands this fully, and so she recognizes that the best outcome for her client is likely to be an early plea bargain, while the prosecutor is still willing to accept a plea to a relatively low-level offense. Indeed, in 2012, the average sentence for federal narcotics defendants who entered into any kind of plea bargain was five years and four months, while the average sentence for defendants who went to trial was sixteen years.
Although under pressure to agree to the first plea bargain offered, prudent defense counsel will try to convince the prosecutor to give her some time to explore legal and factual defenses; but the prosecutor, often overworked and understaffed, may not agree. Defense counsel, moreover, is in no position to abruptly refuse the prosecutor's proposal, since, under recent Supreme Court decisions, she will face a claim of "ineffective assistance of counsel" if, without consulting her client, she summarily rejects a plea bargain simply as a negotiating ploy.
Defense counsel also recognizes that, even if she thinks the plea bargain being offered is unfair compared to those offered by other, similarly situated prosecutors, she has little or no recourse. An appeal to the prosecutor's superior will rarely succeed, since the superiors feel the need to support their troops and since, once again, the prosecutor can shape the facts so as to make his superior find his proposed plea acceptable. And there is no way defense counsel can appeal to a neutral third party, the judge, since in all but a few jurisdictions, the judiciary is precluded from participating in plea bargain negotiations. In a word, she and her client are stuck.
Though there are many variations on this theme, they all prove the same basic point: the prosecutor has all the power. The Supreme Court's suggestion that a plea bargain is a fair and voluntary contractual arrangement between two relatively equal parties is a total myth: it is much more like a "contract of adhesion" in which one party can effectively force its will on the other party.
As for the suggestion from some academics that this is the equivalent of a regulatory process, that too is a myth: for, quite aside from the imbalance of power, there are no written regulations controlling the prosecutor's exercise of his charging power and no established or meaningful process for appealing his exercise of that power. The result is that, of the 2.2 million Americans now in prison—an appalling number in its own right—well over two million are there as a result of plea bargains dictated by the government's prosecutors, who effectively dictate the sentences as well.
A cynic might ask: What's wrong with that? After all, crime rates have declined over the past twenty years to levels not seen since the early 1960s, and it is difficult to escape the conclusion that our criminal justice system, by giving prosecutors the power to force criminals to accept significant jail terms, has played a major part in this reduction. Most Americans feel a lot safer today than they did just a few decades ago, and that feeling has contributed substantially to their enjoyment of life. Why should we cavil at the empowering of prosecutors that has brought us this result?
The answer may be found in Jefferson's perception that a criminal justice system that is secret and government-dictated ultimately invites abuse and even tyranny. Specifically, I would suggest that the current system of prosecutor-determined plea bargaining invites the following objections. First, it is one-sided. Our criminal justice system is premised on the notion that, before we deprive a person of his liberty, he will have his "day in court," i.e., he will be able to put the government to its proof and present his own facts and arguments, following which a jury of his peers will determine whether or not he is guilty of a crime and a neutral judge will, if he is found guilty, determine his sentence. As noted, numerous guarantees of this fair-minded approach are embodied in our Constitution, and were put there because of the Founding Fathers' experience with the rigged British system of colonial justice. Is not the plea bargain system we have now substituted for our constitutional ideal similarly rigged?
Second, and closely related, the system of plea bargains dictated by prosecutors is the product of largely secret negotiations behind closed doors in the prosecutor's office, and is subject to almost no review, either internally or by the courts. Such a secretive system inevitably invites arbitrary results. Indeed, there is a great irony in the fact that legislative measures that were designed to rectify the perceived evils of disparity and arbitrariness in sentencing have empowered prosecutors to preside over a plea-bargaining system that is so secretive and without rules that we do not even know whether or not it operates in an arbitrary manner.
Third, and possibly the gravest objection of all, the prosecutor-dictated plea bargain system, by creating such inordinate pressures to enter into plea bargains, appears to have led a significant number of defendants to plead guilty to crimes they never actually committed. For example, of the approximately three hundred people that the Innocence Project and its affiliated lawyers have proven were wrongfully convicted of crimes of rape or murder that they did not in fact commit, at least thirty, or about 10 percent, pleaded guilty to those crimes. Presumably they did so because, even though they were innocent, they faced the likelihood of being convicted of capital offenses and sought to avoid the death penalty, even at the price of life imprisonment. But other publicized cases, arising with disturbing frequency, suggest that this self-protective psychology operates in noncapital cases as well, and recent studies suggest that this is a widespread problem. For example, the National Registry of Exonerations (a joint project of Michigan Law School and Northwestern Law School) records that of 1,428 legally acknowledged exonerations that have occurred since 1989 involving the full range of felony charges, 151 (or, again, about 10 percent) involved false guilty pleas.
What can we do about it? If there were the political will to do so, we could eliminate mandatory minimums, eliminate sentencing guidelines, and dramatically reduce the severity of our sentencing regimes in general. But even during the second Obama administration, the very modest steps taken by Attorney General Eric Holder to moderate sentences have been met by stiff opposition, some from within his own department. For example, the attorney general's public support for a bipartisan bill that would reduce mandatory minimums for certain narcotics offenses prompted the National Association of Assistant US Attorneys to send an "open letter" of opposition, while a similar letter denouncing the bill was signed by two former attorney generals, three former chiefs of the Drug Enforcement Administration, and eighteen former US attorneys.
Reflecting, perhaps, the religious origins of our country, Americans are notoriously prone to making moral judgments. Often this serves salutary purposes; but a by-product of this moralizing tendency is a punitiveness that I think is not likely to change in the near future. Indeed, on those occasions when Americans read that someone accused of a very serious crime has been permitted to plea bargain to a considerably reduced offense, their typical reaction is one of suspicion or outrage, and sometimes not without reason. Rarely, however, do they contemplate the possibility that the defendant may be totally innocent of any charge but is being coerced into pleading to a lesser offense because the consequences of going to trial and losing are too severe to take the risk.
The prosecutor must be precluded from making any plea bargain offer (or threat) while the magistrate was studying the case. Once the magistrate was ready, he would then meet separately with both sides and, if appropriate, make a recommendation, such as to dismiss the case (if he thought the proof was weak), to proceed to trial (if he thought there was no reasonable plea bargain available), or to enter into a plea bargain along lines the magistrate might suggest. No party would be required to follow the magistrate's suggestions. Their force, if any, would come from the fact that they were being suggested by a neutral third party, who, moreover, was a judicial officer that the prosecutors and the defense lawyers would have to appear before in many other cases.
Would a plan structured along these lines wholly eliminate false guilty pleas? Probably not, but it likely would reduce their number. Would it present new, unforeseeable problems of its own? Undoubtedly, which is why I would recommend that it first be tried as a pilot program. Even given the current federal rules prohibiting judges from involving themselves in the plea-bargaining process, I think something like this could be undertaken, since most such rules can be waived and the relevant parties could here agree to waive them for the limited purposes of a pilot program.
I am under no illusions that this suggested involvement of judges in the plea-bargaining process is a panacea. But would not any program that helps to reduce the shame of sending innocent people to prison be worth trying?