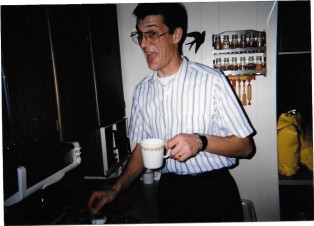 My brother was one of the funniest, kindest individuals I'd ever known. Several years ago I visited him on the job at the police department where he worked and during our time together I noticed he had holes in the bottoms of his boots.  When I asked him why he didn't get himself new shoes he told me that the needs of his children came first.  It's been a long time since I've seen my brother smile like he is in this picture.  He's been in prison for more than ten years.  He was beaten and raped and has Parkinson's disease.  I know my brother's character.  I know the allegations made against him are lies.  I know the two that took his life read The Plea and believe they've gotten away with murder.  I want them to know that when I lay my head down on my pillow at night I know they lied.  When I wake up in the morning to begin my day I know they lied.  They may get hundreds to believe their tale of victimhood, but I'll never be one of them.  I know my brother's character and I know they lied.
August 20, 2014
I met Rick Enss at a law enforcement training course 14 years ago. I would kid him because all of his class notes were in complete sentences.  That's when he earned the nickname "AR".   Rick was professional, dedicated to his work, and showed integrity in the field of law enforcement.
Rick performed many investigations during his career. He investigated cases from property damage to sexual assaults and child abuse. He was professional and thorough in his investigations.  He conducted internal investigations for the Richmond Police Department at the request of his Chief as well as private investigations for former Prosecuting Attorney, Stanley Thompson and private attorney Farrell Hockemeyer.
After false allegations of child molestation were made against Rick by his rebellious step-daughter, the FBI diligently searched for other so-called victims but failed to find a single victim Rick had questioned in his tenure as a police officer who filed any kind of complaint against him. There were no complaints of the private investigations he had done, nor were any cases reopened by suspects or victims using any alleged misconduct.  What an opportunity for a "get-rich-quick" schemers, but no one even questioned his previous investigations.   This says something for the integrity, thoroughness, and professionalism of this man.  Rick was a seasoned investigator, just as the Missouri State Highway Patrol claimed that he was.
As stated, Rick interviewed many victims of crimes and never had to write a memo justifying why he would give a victim money from his own pocket. He provided resources such as shelters, legal aid, DFS, and other social services to the victims just as law enforcement officers are trained to do.  It doesn't make sense that an investigator for the elite FBI, would need to submit a memo stating that on "his own volition he gave Rick's ex-wife $100.00."  He then had to further clarify in the memo that he did it on his own and without the knowledge of the Federal Prosecutor or the FBI.  If this was protocol, why would there be a need for a memo?  If it was not then why would the investigator do it?  Quid pro quo perhaps?
Rick had ethics and performed his job by following the law and department protocol. This is evidenced by the superior employment jacket that he had with the Richmond Police Department and the reputation he had with the Prosecutor, the private attorneys, and in his city and the counties he worked and lived.
My husband and I asked Rick to pick up our two girls from the Hardin School and take them to our home north of Hardin, Missouri. The newspapers claimed that Rick was picking up unidentified young girls from the school.  The FBI knew exactly who he was picking up and where they were taken.  They had surveillance on our home.  Neither the Hardin Police Department nor the Ray County Sheriff's Department was called about an alleged child molester picking up young girls from school. No investigation was done.  My husband and I were never questioned about if or why we would allow Rick to pick up our daughters, who incidentally are his nieces.  This just baffles the mind.
Rick's investigations were solid and truthful, as revealed in a court of law. There was never a case where the victim or the suspect ever made claims against Rick for deficiencies or inaccuracies in his reports, investigations or testimony.
In the interviews the Enss family had with STAT investigator, Larry Wyrick. Inv. Wyrick made a big deal about Rick's step-daughter and step-son being adopted and referred to the family as adopted grandparents, aunts, uncles, and cousins.  From my observations Rick treated his adopted daughter and son the same as his biological daughter.  It is unfortunate that I did not get to meet his oldest biological daughter.  The discipline and love were the same.  Yes, he did tell them they were special—he told them all that they were special and treated them as such.  He was a parent who believed in love, discipline, consequences, truth, sharing, and caring.  That's what good parents do.  He was a good parent many times taking on roles traditionally thought to be the mother's role.  The mother didn't always want that role and Rick had to pick up the slack.  It was ironic to me that Rick had an administrative hearing about the first false allegation of child molestation in 2002, yet when we received the discovery, half of that administrative hearing paperwork was about the DFS investigation of a complaint against the mother of Rick's step children.
Unlike Rick's former Chief of Police and the person who occasionally took the exclusive use laptop computer home, Rick did not surround himself around children. He did not teach Sunday School, never had any interest in the School Resource Officer, had no foster children, and never placed himself in the middle of child related activities except where his children were directly involved.  The STAT investigators found one incident where he worked Trick-or-treat Street as a rookie officer.
Rick met the qualifications for adoption and was interviewed by social service workers and attorney's before the adoption process was finalized. In 2002, false allegations of sexual abuse his step-daughter was reported.  There were home visits made by the Division of Family Services, interviews with attornies, social workers, and there were no charges filed.
Rick was the father who taught his step-daughter to drive, picked her up from the movies, and made sure she had the things necessary to live as equal to her classmates and friends. The testimony from the victim was that he never assaulted her or molested her when they were alone.  It always happened when her brother and sister were at home.  She remembered 3 months after the initial report that she had been held down on the floor and violently raped.  Rick would have questioned any victim he was interviewing as to how something like that could slip your mind.  Why when going through a SAFE exam that a violent rape wasn't remembered. No one saw anything, there was no DNA, there were no incriminating photos of the victim, no nude photos, VCR tapes, letters, no sheets, no underwear, no adult sex toys or paraphernalia, or anything specific to the one victim he was alleged to have abused.  In fact, the STAT investigators had to contact an older biological daughter to send her pajama pants down.  No reason, no testing, nothing except to possibly confuse the jury should the case have gone to trial.
Rick's cases were solid and based upon the facts and evidence of the case. He did not have to manufacture evidence to make his cases.  After Rick's arrest our family was approached by many of the people who Rick and investigated and some he had even sent to prison.  They all told us that they were treated with dignity and respect, even though they were accused of the crime.  None of the people the family suggested investigators speak with were ever interviewed.  We were told by investigators that "they had enough".
Law enforcement officers are taught in the academy to do their own investigations and rely on the power of search warrants. All investigative reports state that Rick's ex-wife (he was married to her at the time) handed the cd's and the computers to the STAT investigator.  No search of the house even though they had verbal consent to search, no retrieval of photos, letters, video tapes, adult sex material, clothing, anything normally sought during a search warrant. No photos or narratives taken or written about the home where this horrid crime allegedly occurred.
As law enforcement officers, we are taught to apply for search warrants in cases of this type. Don't rely on verbal consent to search.  It's too much a critical point in court.  Search warrants were requested for Scott Enss internet service provider only.  No warrant for any of their personal computers attached to that ISP.  The State's only assumption was that Rick's RPD laptop computer was attached and only used by him.  I told his attorney I used that laptop, I knew the log-ons of all RPD employees with radio numbers, and topics I searched for were not on the printout of what they called the harddrive of the RPD laptop computer.  I don't believe it to be the printout because I searched for Xanga and I was on the sites of the victim, the siblings, and all of their friends.  That was not on the printout or the harddrive.  If I pay for a service, I am going to use that service and I'm going to use my own computers too.  We had a desktop which crashed, then we attached my laptop which was old and not compatible with the research I needed to do, and we had dial-up internet.  It could take hours to download a single picture.  There was a warrant for his mother's internet service provider but not for either of her computers.  Again, if you pay for a service you are likely to use that service yourself.  Rick lived in a park model camper on his parent's property and was attached to all of the residential utilities, to include the internet.  Rick had a desktop and lap top computer in that camper, the desktop being in plain view of the arresting FBI agents that March day.  They did not secure the camper and apply for a search warrant for which he was truly the exclusive user of those two computers.
FBI investigators and his own attorney were aware that Rick had access to at least 13 computers but none of those computers were even questioned let alone confiscated. No one checked the libraries where he admitted to doing research for his sister. Again, we were told "they had enough".  Rick as a law enforcement officer, would have performed a thorough investigation and would have never left potential evidence, especially something as serious as child pornography out on other computers.  His own attorney, J.R. Hobbs, would not request a forensic investigation of those computers as Rick and his family requested.  If officials believed Rick was the predator they claim, they left 13 other computers out there with someone else to be charged with child pornography.
The Richmond PD networked computer, claimed to be exclusively used by Rick, was not processed according to Richmond PD policy for computer evidence collection, it was not processed by the STAT team even though they were on their way from Carroll County to pick it up. At that point, Richmond PD was a conflict of interest and the inferior agency to the STAT team.  The evidence was not marked and tagged properly nor photos of the evidence taken.  The Richmond PD laptop chain of custody did not reflect where Chief McWilliams had it secured while in her possession before transporting it to Carroll County to the STAT investigators.  She said she kept it in the trunk after receiving it on Saturday.  We returned it Friday night.
Rick's investigations were solid. Not one attorney or subject of a child pornography/sex abuse investigation (or any investigation for that matter) requested their case be reopened because Rick's character was in question.  Not a single victim he interviewed came out and said he mistreated them in any way while behind closed doors during the interview.  This is definitely a testimony to the character of Rick Enss    Not the Richard Enns they have mentioned in the allegations, reports and criminal history.  The Richmond Police Chief herself contacted Sierra Vista, AZ about the criminal history of Rick Enss.  There is a statement that Rick Enss is negative for a criminal history in AZ.  Richard Enns, however does have one.
I know in the past that when a person who has committed a crime but did it in a way that was unfamiliar or intriguing to the FBI they have taken that person on board to find out the details of their crime. Rick never paid for the child pornography they said he received, he never chatted or traded with others about child pornography, he was not involved in a domestic or overseas sex trafficking ring, he escaped a criminal background check through his years in the military, police academy, and employment in a police department, he left no DNA or real evidence of this false allegation of molestation crime with his step-daughter, he dissolved criminal profiles by following the same child from the age of three through teen years, yet the FBI isn't interested?  Must be many a criminal flying under the radar because unless Rick is an elitist, there are others and the FBI has no desire to find out how?  Because it didn't happen!  Just like the computers they would not do forensics on because "they had enough", there are horrific crimes being committed by people who the FBI won't investigate because they have enough, they have Rick Enss just as Larry Wyrick said.  He had a cop.
I can't tell you the hours I went through financial records. Funny his wife didn't pay the rent in April 2004 when she sought a divorce attorney from Chillicothe, nor did she pay the rent, utilities, or other obligations in June 2004 when she was told she would cooperate or she would not get her children back.
Speaking of getting her children back. During a juvenile hearing the children were put into a foster home.  The pastor who failed to report the allegation which came light at a church camp where his son was a youth pastor who also failed to report the allegation to authorities, his and their other son.  No family member was even considered for foster care.  The Enss family was told that the kids didn't want to see us, yet social media showed that the kids didn't know why the family didn't want anything to do with them.  Rick was told he had to abandon his family and give up his paternal rights.  His divorce was fought in federal court and everything he had or would ever have went to the Victim Rights' Fund, his military and law enforcement pension, his equity in the home she still lives in, and the Federal Prosecutor told us that he would never get out and never own a dime.  What happened to serving a sentence.  Rick's sentence changed every time misconduct is opened up in the State or Federal investigation.  Again, the Enss family is threatened by letters stating that they need to pay his restitution.
We all have a lapse in judgment from time to time and Rick's big one was the contact of his victim while out on bail, but I find it odd that when I used the Richmond Police Department laptop computer that the State claimed was exclusively used by him, there was no mention, or, proof on the hard drive that I viewed Xanga sites of his step-daughter, step-son, biological daughter he had with his wife at the time, or the daughter he had with his first wife. It would seem that an experienced investigator would have found these sites and claimed they were visited by Rick and used these as contacts and possible other victims as well.
As mentioned before, Rick was a thorough investigator and did not construct evidence to match his case. He used the evidence to make his case.
Rick and I sat for many hours pooling over the reports of this case, evidence, financial statements, Xanga accounts of his step-daughter's friends both male and female. I know how he performed accurate, detailed investigations.  I know how he meticulously wrote reports.  There were way too many mistakes or intentional tracks left for this to be legitimate in a court of law.  I wish we could have seen the future because J.R. Hobbs would not have allowed to get away with telling us that this case could not have gone to trial in October of 2005 because Cynthia Gonella, needed surgery.  I have spoken with many a defense attorney and they have all said that was the perfect opportunity to go to court.  No witness/no case.
People want to say that when someone takes a plea they must be guilty. That person has never been in a situation to have to make that decision.  You take a plea because there is no money to continue to fight.  You take a plea because your top rated, high dollar attorney doesn't fight for you and has a paralegal who has family in the same town this incident occurred and will not recuse himself or her.  You take a plea when your defense attorney does not file motions on your behalf and tells you if you go to trial all the jury will see if the images -images familiar to the FBI but no REAL victims.  You take a plea because your family has been threatened.  Oh, I know in court the judge asks if you or your family has been threatened, but what are you really going to say?  Your attorney and the prosecuting attorney may as well stand there with a gun to your head and use it if you say yes.  Our family was threatened by the government and the defense attorney, audited for life by the IRS, domestic terrorism, yes, his mother had the FBI at her door threatening domestic terrorism, interference with the investigation if we fought for the truth.  The attorney or judge asks you if your attorney did what you ask, said he was going to do etc. but if you are unaware of what was or was not done at the time then your answer was truthful based upon the knowledge you had, not the truth.   Yes, this man took the plea.  Real mean take pleas when their families stand to lose, not because they are guilty.  Examine the system sometime.
To end this letter of the character of Rick Enss, former Sgt. Richmond, MO Police Department, partner in law, friend, and brother-in-law—I tried in the beginning to prove that you did not do this but I couldn't because every time we would find that evidence and mention it to you attorney, somehow, evidence to the contrary would appear. I tried to prove that you did commit this crime and I could not do that either.  There was, no DNA, no exact dates were provided by the only victim, no real victims in the downloaded images, the sites they said you visited they claimed to be indicative of child porn (to include the children's site called NEOpets, a game my daughter used to play on.  Every single rule of investigation was violated by one agency or another.  You don't wait until you get back from vacation to start an investigation which involves children and of this serious nature.  You don't wait three weeks to do a SAFE exam on a teenager who has claimed to have been sexually molested, and you don't tell the family that you are out to hang a cop. Something is wrong, if only we had the opportunity to go to trial instead of taking that damn plea.  Blame the defense attorney when he told us that the Federal Prosecutor would add a year on for everyday that you did not take the plea.
Linda Enss