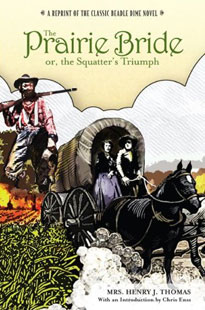 Tired of her controlling stepparents, headstrong heiress Annie Howard goes west and encounters a series of adventures–including a blazing prairie fire, a sinking riverboat, the kidnapping of her beloved servant, and, of course, romance.
When The Prairie Bride, a classic dime novel, was first published in 1869 by the extremely popular publishing house of Beadle & Adams, it was a best-seller. Western history fans will delight in the novel's whimsical presentation of a claim fight over a homestead–perhaps even more charming now than it was in the nineteenth century.
It is with great pleasure that we bring this classic series of Beadle & Adams dime novels to a new generation. The themes of the American spirit and determination, of courage and bravery, and of friendship, love, and honor are timeless.