Enter now for a chance to win a copy of
The Trials of Annie Oakley.
"There was a time when one's impressions of performing sharpshooter Annie Oakley were based on the 1950s musical film Annie Get Your Gun – nothing could be further from the truth. Chris Enss uses her sleuthing savvy to uncover myth-busting details of Oakley's life, revealing a multifaceted woman who was at once a larger-than-life character, a legend, a role model, and, most of all, a strong and selfless human being."
Henry B. Crawford, Founder, History By Choice
"This is a story about a woman before her time. As a strong, independent female figure in American history, Annie Oakley paved the way for other young women to follow their dreams. This book beautifully tells an amazing story from our country's history, with the grit and womanly ruggedness that Annie Oakley exuded."
Carly Twisselman, TV Show Host/Personality for NRATV, GUNTV, and RIDETV,
and 2nd Amendment Advocate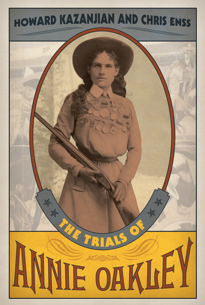 To learn more about the famous sure shot read
The Trials of Annie Oakley.