Enter to win a copy of
The Western Writers of America Cookbook: Favorite Recipes, Cooking Tips, and Writing Wisdom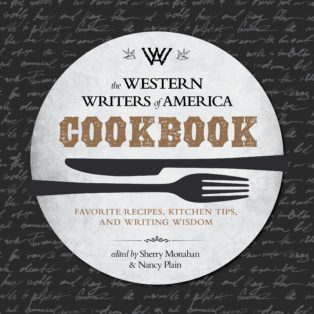 I don't cook. I sustain largely on Pop Tarts (frosted cherry to be precise) and any cereal. I like the idea of just eating and drinking with one hand, without looking. Because I don't cook I don't really shop for food outside of the Cap'n Crunch aisle. I'm not familiar with the varieties of products available at the grocery store. For example, I was at the store not too long ago and accidentally found myself in a section with spaghetti sauce and salad dressing. Paul Newman's face was on every item in that aisle it seemed. If I didn't know he had passed away several years ago I would have thought he was missing.
But seriously…
I believe the Western Writers of America Cookbook: Favorite Recipes, Cooking Tips, and Writing Wisdom could change my eating habits. Although I am disappointed there are no Pop Tart recipes in the book I find myself wanting to cook after reading this manual.
Filled with more than 150 recipes, anecdotes, and stories from some of America's most popular writers and personalities, this collaborative effort has a writers sensibility and a Western point of view. Including recipes for drinks, appetizers, main dishes, side dishes, desserts, and fun extras—as well as stories from and profiles of the contributors, this is both a Western book and a cookbook that moves beyond the genre.
The Western Writers of America Cookbook was edited by Nancy Plain and Sherry Monahan. Nancy Plain is an award-winning writer of biographies and histories for readers of all ages. Sherry Monahan has her own column (Frontier Fare) in and is a contributing editor for True West magazine.
If you'd like to break out of your Pop Tart rut and take on a few delicious recipes this book is for you.
Enter to win a copy of 
The Western Writers of America Cookbook: Favorite Recipes, Cooking Tips, and Writing Wisdom when you visit

www.chrisenss.com

.