Enter now to win
The Cowboy & the Senorita: A Biography of Roy Rogers and Dale Evans.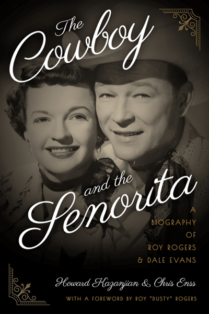 Hundreds of excited children, with hard-earned nickels and dimes clutched tightly in their fists, exchanged their money for a ticket at Saturday matinees across the country in the 1940s. The chance to see singing cowboy Roy Rogers, his horse, Trigger, and leading lady Dale Evans come up against the West's most notorious criminals brought young audiences to theatres in droves.  And, in the process, it elevated western musicals to one of the most popular film genres in history.
Roy Rogers and Dale Evans were the reigning royalty of B-rated westerns for more than a decade. They helped persuade moviegoers that good always triumphs over evil in a fair fight and that life on the open range was one long, wholesome sing-along.  Together, the King of Cowboys and the Queen of the West appeared in more than 200 films and television programs.
Roy and Dale made their first picture together in 1944. The film, The Cowboy and the Senorita, brought an estimated 900,000 fans to movie houses in America and began a partnership for the couple that lasted fifty-two years.  The chemistry between Roy and Dale was enchanting, and together they were an entertaining powerhouse.  In addition to their films, they had popular radio programs, comic book series, albums, and a long list of merchandise (including clothes, boots, and toys), all bearing their names.
Roy and Dale were successful individually, as well. Dale, a talented singer-songwriter, performed with big band orchestras, shared the stage with Edgar Bergen and Charlie McCarthy, and penned many popular tunes, including the song that would be Roy and Dale's theme, "Happy Trails."  Roy was a co-founder and member of the group the Sons of the Pioneers.  The band made a name for itself singing original country music songs, including "Cool Water" and "Tumblin' Tumbleweeds."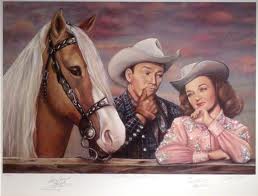 To learn more about Roy Rogers and Dale Evans read
The Cowboy and the Senorita.