Enter to win a copy of two books about mail order brides of the Old West.
The titles you can win are Hearts West: True Stories of Mail Order Brides on the Frontier and
Object Matrimony: The Risky Business of Mail Order Match Making on the Western Frontier.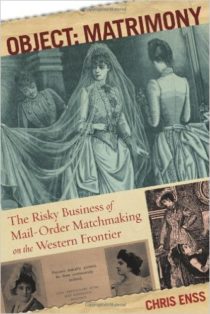 In the early days of westward travel, when men and women left behind their homes and acquaintances in search of wealth and happiness, there was a recognized need for some method of honorable introduction between the sexes. The need was readily fulfilled by the formation of a periodical devoted entirely to the advancement of marriage.
Throughout the 1870s, 80s and 90s, that periodical, to which many unattached men and women subscribed, was a newspaper called Matrimonial News. Here's a sample of one of the advertisements that appeared in the publication:
No, 228 – If there is a gentlemen of honor and intelligence between the age of 35 and 50 who wants a genuine housekeeper, let him write to this number. I am a widow, 34 years old, weight 110 pounds, 4 feet and 5 inches in height: am brunette and have very fine black hair.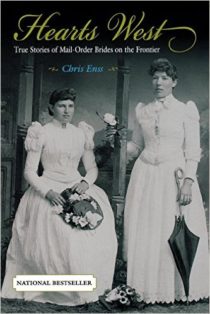 To learn more about mail order brides and the advertisements they placed in various publications read Hearts West: True Stories of Mail Order Brides on the Frontier and
Object Matrimony: The Risky Business of Mail Order Match Making on the Western Frontier.To