Enter for a chance to win a copy of
Wicked Women:
Notorious, Mischievous, and Wayward Ladies from the Old West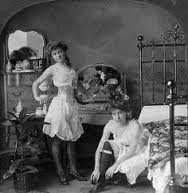 The effect of vice upon the destiny of the expanding western frontier was considered by some religious and political leaders in the mid-1850s to be a sign of a rotten and decaying civilization. In 1856, Methodist pastor John M. Chivington told a congregation in Nebraska that "the extravagant development of immorality, particularly the development of immoral women given to gambling, whiskey drinking and prostitution, marked the decadence of a potentially great nation." Ernest A. Bell, the secretary of the Illinois Vigilance Association maintained that "from the day the serpent lured the first woman in the garden there have been few days and nights when some daughter of Eve's has not been deceived into a wicked life by some serpent or other. It has not changed and will not change."
In 1849, women of easy virtue found wicked lives west of the Mississippi when they followed fortune hunters seeking gold and land in an unsettled territory. Prostitutes and female gamblers hoped to capitalize on the vices of the intrepid pioneers.
According to records at the California State Historical Library, more than half of the working women in the West during the 1870s were prostitutes. At that time, madams – those women who owned, managed, and maintained brothels – were generally the only women out west who appeared to be in control of their own destinies. For that reason alone, the prospect of a career in the "oldest profession" – at least at the outset – must have seemed promising.
Often referred to as "sporting women" and "soiled doves," prostitutes mostly ranged in age from seventeen to twenty-five, although girls as young as fourteen were sometimes hired. Women over twenty-eight years of age were generally considered too old to be prostitutes.
Rarely, if ever, did working women use their real names. In order to avoid trouble with the law as they traveled from town to town and to protect their true identities, many of these women adopted colorful new handles like Contrary Mary, Little Gold Dollar, Lazy Kate, and Honolulu Nell. The vicinities where their businesses were located were also given distinctive names. Bordellos and parlor houses typically thrived in that part of the city known as "the half world," "the badlands," "the tenderloin," "the twilight zone," or the red-light district."
The term "red-light district" originated in Kansas. As a way of discouraging would-be intruders brazen railroad workers around Dodge City began hanging their red brakemen's lanterns outside their doors as signal that they were in the company of a lady of the evening. The colorful custom was quickly adopted by many ladies and their madams.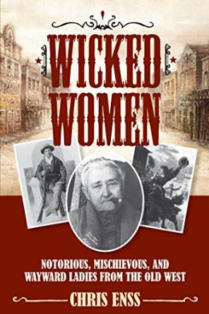 To learn more about the wild ladies on the rugged frontier read
Wicked Women:
Notorious, Mischievous, and Wayward Ladies from the Old West