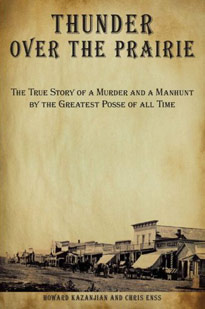 A historic Kansas court ledger with references to Wild West lawmen Wyatt Earp and Bat Masterson has been found in Ohio, the FBI said Thursday.
The U.S. attorney's office is trying to get the book returned to Dodge City, where it once was part of the community's public records. The ledger details city court cases from 1878 to 1882, and the FBI said it's worth about $100,000.
FBI Special Agent Robin Smith said in an affidavit that city officials believe "someone unknown" stole the book, perhaps i n the 1950s. But no criminal charges have been filed now that the ledger has been recovered. "Our overall objective is to get this historic document back to the city of Dodge City," said Bridget Patton, an FBI spokeswoman in Kansas City, Missouri.
The U.S. attorney's office filed a civil case Wednesday in U.S. District Court in Wichita, seeking to have the ledger declared a public record belonging to the city, allowing its return to Kansas. The FBI, along with the Ford County sheriff's office, announced the book's discovery Thursday.
In his affidavit, Smith said the book was last documented in the city's possession in the early 1950s. That's when a writer used it in researching a book on Dodge City's past as a rollicking cattle town.
Somehow, the book ended up in the possession of James Collins, of Blacklick, Ohio, outside Columbus. Smit h said in his affidavit that Collins told FBI agents that the ledger had been passed from his grandfather to his father and to him, after his father's death.
Interested in Learning More About Wyatt Earp?
If so, you might enjoy reading Thunder Over the Prairie, by Chris Enss